Story: "Farm With A View"
Client: Massey Ferguson tractors
Magazine story: http://www.onlinedigitalpubs.com/publication/?i=148737&p=14
Web package: http://www.myfarmlife.com/features/a-farm-with-a-view/
"Windmist's location—smack in the middle of the island—makes it ideal for discerning foodies on their way home to Boston and the suburbs of southern Connecticut. The cars on North Road will often slow down just a bit to take in the view. But it's the food the farm produces that is worth stopping for."
Why it's compelling: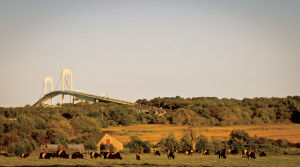 "Farm With A View" is story about a small family farm in New England, but it's also a virtual laundry list of proven processes for small-farm profitability. FarmLife staffers have observed the shifts in the agriculture industry over the past several years, as farms seem to either be getting much bigger or much smaller. Whether farmers try to make their entire living on smaller acreage or depend on the land for extra income to supplement an off-farm job, there is often at least an expectation that small-scale farming will pay off financially, aside from the pleasure smaller farmers get from working the land alone.
That makes stories about getting the most from a small acreage quite popular in ag journalism.
Meanwhile, the rise of the slow-food movement and the caché of locally sourced food among consumers give a news hook to what might otherwise be a niche story.
All of that would have made for a compelling story… but then there is the scenery. It certainly didn't hurt that this is one of the most aesthetically beautiful farms we've ever visited. The gorgeous view helps attract visitors to Windmist, and it helped attract readers to the story.
Why it's credible:
It is an ongoing value in FarmLife to source customers of the brand that "know their stuff." The Neales are ideal examples of this philosophy. Not only are they terrific ambassadors for the brand (see "How it's connected," below), they're ambassadors for small-acreage farming, too. They know how to do it, and do it profitably.
They chose Belted Galloway cattle to raise at Windmist because of their efficiency on grass in compact pastures, and their foodie appeal. Their pastures are enhanced and maintained in part by a system of rolling chicken pens. They participate in local and national programs that help them market and package their products, as well as extend their growing season.
While Martha Neale works full-time on the farm, husband George has an off-farm job. It's a complete package of ideas for small farms.
How it's connected:
A tractor of any size is a big-time investment for a small farm. The small-farm market is also a highly competitive market for tractor brands, with five major brands laying claim to the best machines with the best features. The Neales do an excellent job of explaining why Massey Ferguson tractors have worked for them—it has been efficient for them from a workhorse perspective and even from a price perspective.
And, as so often happens with the best brand ambassadors, the Neales point out that one of their favorite features of the tractor—the design that allows better access and visibility around animals—is also one of the features the company loves to talk about.
FarmLife tells not only the Neales' story, but also how Massey Ferguson helps them be successful.
A consistent approach:
How powerful is a success story about family farming? Our internal readership research shows "Farm With A View" scored the highest of any feature we've ever run in FarmLife—an 89.28 composite score. Meanwhile, the dramatic scenery certainly didn't hurt the piece on social media: on both Massey Ferguson's global Facebook page and the Facebook presence of the corporate parent, AGCO, the vista of the farm with the bridge in the backdrop was liked and shared hundreds of times. The story also made an appearance on the corporate blog, as well as multiple email blasts to customers.